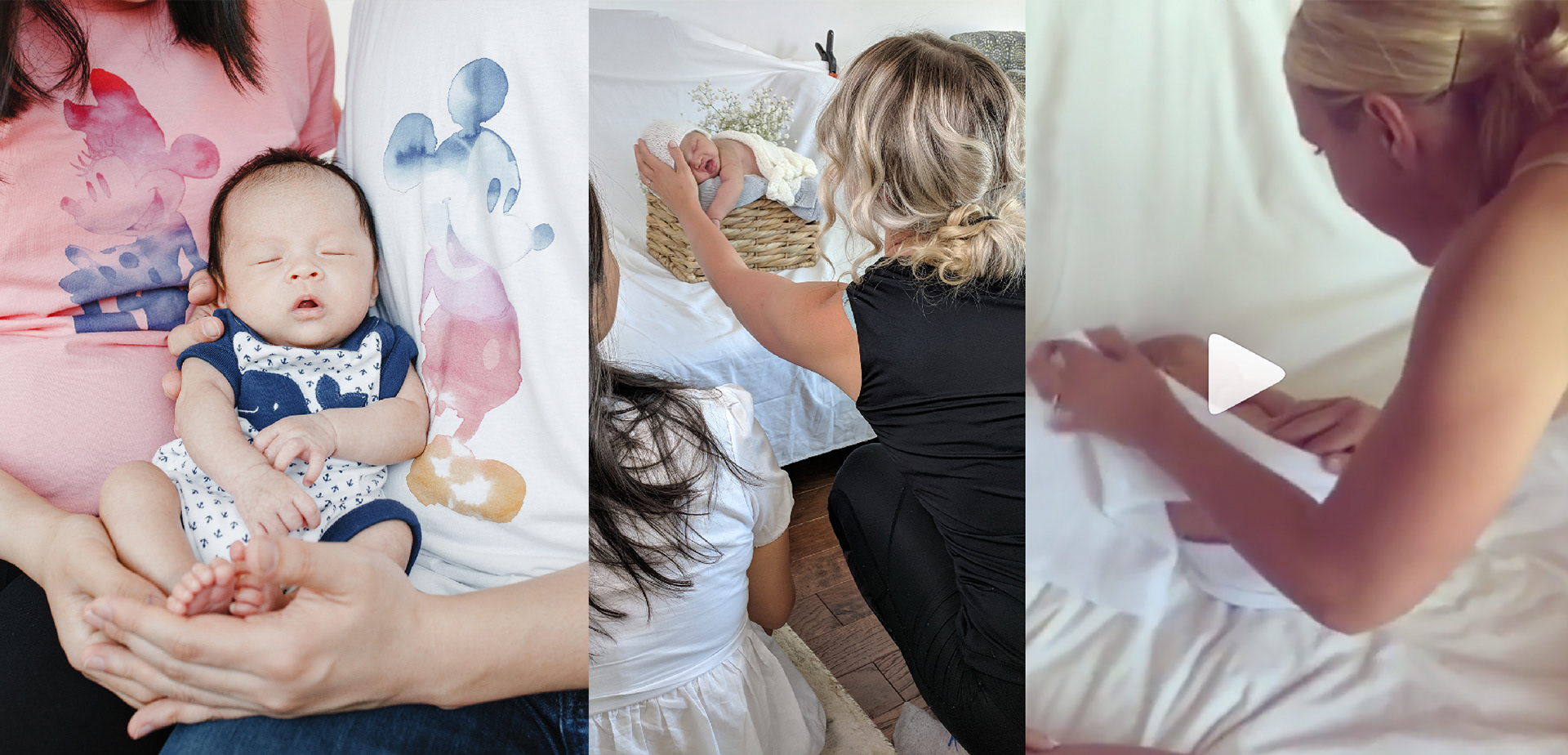 1. 
Newborn Photosession
done in the first two weeks of the baby's life, therefore it's important to pick the right professional children's photographer who has sufficient knowledge and experience to ensure that the photo session will not be a trial to diversify portfolio but an interesting and enjoyable experience for the baby and parents. Be sure to check out the photographer's portfolio and qualification labels. Remember that even the best wedding or portrait photographer will not be able to take pictures like those of a newborn photographer with experience with babies.
2. Two weeks old. Plan your photo session within two weeks after birth, but not too early. Some babies still have  swelling and other effects of childbirth, that's why we do lifestyle images at
fresh 48
or in-hospital session. Baby intuitively remembers the pose of the embryo that he was taking in mommies tummy for a while, so in the first two weeks after birth this pose will be for him natural, comfortable and safe.
3. If a baby doesn't feel right, cries a lot and not sleeping - contact photographer to reschedule the session. 
4. Location. Photo session at your home is an option , while
photographers studio
is the best location. Your newborn photographer will set the temperature , and light required for the session and will sanitize environment to make sure everything is safe and ready for your arrival.
5. Room temperature. Suggested temperature for newborn photo session is  80F which can be a little hot for the rest of the family. make sure you plan outfits accordingly.
6. Before and during photo session, all participants must wash their their hands and wipe if needed  with disinfectant. Blankets and other fabrics , including other props  should be fresh and washed, regardless of whether they were used and dirty earlier. All little toys must be disinfected prior the session. 
7. Light. Depends of the time of the day, newborn photoshoot can be done with the natural light or with flash light system. Flash light is proven safe for babies, unless baby is not sleeping and looking straight at the light, which barely ever happens. 
8. Safety. There should always be at least two adults next to your newborn.  When the photographer is taking pictures, mom or dad is at arm's length from the baby or even closer. The photographer may ask to hold the newborn or his head with his hand or finger. This finger is then retouched in photoshop and need to ensure safety of every pose.
9. Poses. Not every pose is equal safe for your baby. If you find some photo online or on Pinterest, consult with your photographer of safety for that one.
10. Fabrics. During photoshoot check that there is no  stray fur got around babies toes or fingers.
And the most important fact to remember - babies are  a little human beings. Let their poses be more simple and watch them smile. Some cool photos online may sound exciting but may be not that comfortable for the baby.